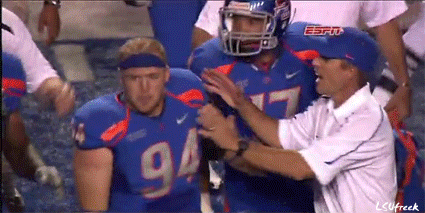 Pretty much everyone is talking about Oregon RB L. Blount, after he coldcocked a Boise State player last night, but I don't have much to say about it. He talked trash in the offseason, saying that Boise State "deserved an ass-whoopin" and then they got taken behind the woodshed last night.

The BSU player, #94 Hout, tapped him on the shoulder and said something he should not have said. Probably somethin about "hows that ass whoopin bitch?" or a use of the N word. He provoked it, and probably deserved to have his ass knocked out for doing that, thats still bad sportsmanship on HIS part.

That said, Blount should be suspended a minimum of 3 games for that punch, and considering that he's been in trouble this offseason, and that he let himself lose his cool by threatening a fan (though the fan was talkin shit too, clearly), I'd kick him off my team period.

UPDATE: Blount has been suspended for the rest of the year by Oregon. Hout has been "internally disciplined."


(courtesy EDSBS and LSUFreek)

Otherwise, the only surprise last night was Spurrier's commitment to an inside power running game, and the SLUGGISH NC State team. I suspect the Cluckers will have a pretty good defense, and give UGA a fight next week because they usually do and UGA overlooks them. They'll lose to UGA, unless the meteor strike I've been praying for happens, and then proclaim they'll not lose again til Florida.

When what really will happen is that they'll beat FAU, then crumble at midseason. Their young secondary will eventually give up alot of yards, and anyone with a brain who knows them will know that all you ever have to do to SC to win is POUND them up the middle.

NC State showed me that Russell Wilson really does have an NFL-quick release, his WRs cant catch and the TE, who was open the first half, is slower than molasses.
They were weak up front on BOTH sides, until late in the 3rd, and did alright to prevent SC from killing them when they lost field position in the 1st half. I suspect O'Brien will salvage this team and they'll be playing much better when we come on the schedule.

Links
-Scott Rhymer's best article, in my opinion. Just block somedamnbody and you'll win.

-Clemson pulled in its 3rd commit for 2011, Brandon Ellerbe (6'1 200, 4.5) from NC. Its nice to pull in players from NC, we used to own that state. He projects as a safety. He's been looked at by Duke, Vandy, and Virginia, and was very interested in UGA and Florida. His teammate is the top LB in NC, who we lead for, and another is a good OL recruit. We may pull in all three, but its too early to think about.

-The State has a video of Swinney and Parker previewing MTSU in the press conference earlier this week, coachspeak stuff.

-The AP writes about the season D. Bowers and Ricky Sapp should have, and an interview with Chris Chancellor.

-RichRod's troubles at West Virginia have been linked with Clemson booster Lamar Greene, whose name vaguely rings a bell with me, as well as Ron West.

-Sawchik points out the possibility of upset tomorrow.

-Several tidbits in this Strelow article, about the QB being a new dimension in Franklin's system, and mix & match of our WRs in different positions on the field. Also, the less-talked-about trip to Austin this offseason to meet with the Texas staff earlier in winter.