NIT?

Clemson basketball finished 24th in the last AP Poll of the regular season, 21st in the Coaches', which are fair and deserved. This is the first time Clemson has been ranked in the final poll in consecutive years in history. Clemson was 22nd last year. Prior to last year Clemson had not been ranked in the final top 25 of any poll since the 1996-97 season.

Strelow has a piece up on the 5 things Clemson needs to fix to win thursday. None of them are really surprising if you watched the losses we've had lately: defensive effort, intensity, bench scoring, scoring inside, etc.

A great deal has been made on TNet about the Michigan 1-3-1 Zone, but John Beilein says they only use it about 10% of the time, and they are hard at work prepping for us. The article also goes into Beilein's impressive coaching record.

Bart Wright thinks that the back-to-back trips to the NCAAs will help this team focus and not be nervous for the first round this time around and should keep our intensity up the whole game....but we weren't nervous last year, we just choked at the end of the game. Come to think of it, its our intensity that has been a problem this year, so I'm not so encouraged.

The baseball team, ranked as high as 18th, has midweek games against PC and USC-Spartanburg, which I wholeheartedly refuse to call Upstate. Both are 6:30 games and we should destroy both teams. It would be nice to sweep and take the momentum into the series against FSU this weekend, who seem to be struggling a little at the moment. Recall that FSU was picked to win the Atlantic, and they swept us last year.

You wanna buy Tommy's house? I would if it came with his daughter.

Dr. Saturday writes about the Clemson choice of Dabo Swinney.

With Bryce Brown picking Kiffykins, we can expect NCAA probes to follow.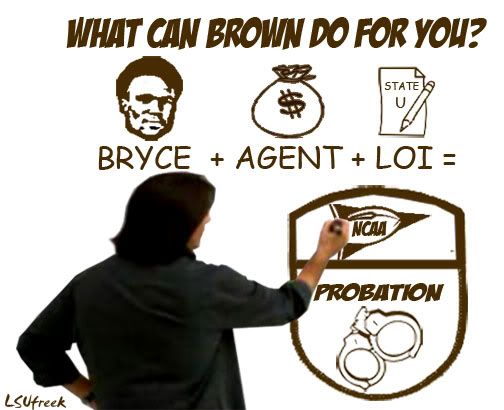 Irish Joke of the day:

Notre Dame Football.