So its Florida vs. Oklahoma, and the early line was favoring Florida, the last time I looked. Oklahoma will have a difficult time stopping the spread option Florida runs. Florida will have a difficult time preventing the OU offense from executing their offense. Whomever plays defense in the game will win it.

I dont really thing it'll be all about turnovers and special teams play here, just defense.

But I want to know why Alabama went to the Sugar, while Texas went to the Fiesta?

I realize the Sugar Bowl has almost always taken the SEC Champion, but Fiesta doesnt have a tremendous history of taking Big 8/SWC teams, so why are they now always getting the Big XII champ?

Most of the time it was the Orange Bowl that took the Big 8, while the Cotton took the SWC Champ. If the Rose Bowl want to act like bitches and continue to create shitty matchups by always taking the Pac 1 champ vs. whoever-sucks-the-least from the Big 10, thats their call, they have a long history of it.

But the Fiesta should have either picked up Alabama and let them play Texas, or the Sugar should've come out openly and released Alabama for consideration. Fiesta should, in theory, have the higher picks since New Orleans hosted the NC last year. Thats the game we want to see. If Texas and Bama played and Texas won, they'd have a real argument for a piece of the national championship either way. Now, with them playing an Ohio State team that doesn't deserve to be there, even if they stomp OSU soundly they won't be able to make a case.

Let the Sugar take Boise State against Utah. Screw Ohio State, let Georgia kill them in the Citrus Bowl.

But instead we get to see Alabama vs. Utah, basically a WGAF bowl game like Georgia vs. Hawaii last year, and Texas vs. a Ohio State team that has beaten no one all year.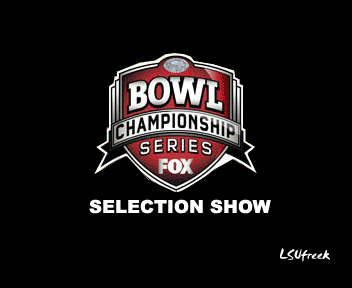 Good job BCS.