A Q&A with Tomahawk Nation will be coming.
Thomas Austin and CJ named offensive players of the week for the ACC.
OMG, dont tell me I was right in saying Austin should be moved away from Center, that just couldnt be so. CJ is a no brainer, as Napier and Powell have said this week that their jaws dropped from watching the BC film.
Something we havent heard in a while came from Dabo's teleconference Sunday, when asked whether we played physical up front.
"I thought that last night, but I saw it on film," Swinney said. "The guys played physical."
Dabo mentioned that Terry Bowden left him a message of support from the Bowden family when we face FSU this week.
LW
reports that Swinney continues to say that Korn only played one snap at BC because of confidence in his throwing ability. Williams' opinion is that Korn looked so bad in warmups that he buys what Dabo is selling.
I'm thinking that Korn's shoulder is hurting more than we are led to believe. We need him for FSU given Harpers inconsistency making decisions, but if he's hurt you have to hold him out against that defense. I dont care what
Napier says about it,
if Korn is hurting he's not playing. I don't want Clemson to run Korn in for option plays only and never throw, even though the triple option ate FSU alive last week.
Strelow has a pretty good article on the end of the Bowden Bowl
here.
"It was getting where Ann ... she got so tired of (it)," Bobby told reporters Sunday. "She can't win. She's got a lot of pride. She wants me to win, and she wants Tommy to win. She wants Terry and Jeffrey and all of them to win. With Tommy and I playing, she can't win. One of us is going to have to get beat.

"Of course, I didn't like it either. I didn't like it when he beat me. And when I beat him, I feel for him. So I am so happy. This is the first time in 10 years I don't have to worry about Tommy being on the other side whipping me or me whipping him."

Bobby said there was no chance Tommy would offer a scouting report and that he would not request one.

"Tommy wouldn't dare," Bobby Bowden said. "Those are his kids. You know he recruited those kids, and he'll pull for those kids.

"Will he pull for them against me? Probably. Just to show he's a good recruiter. He wouldn't dare come by here. I wouldn't even ask him to sit down with me to say: 'Oh man, this guy's got this weakness, this guy's got that weakness.'

"He left there on a good note as far as he was concerned. He wished he could have made them happy. So I have no animosity toward them."

Swinney said he expects to talk with Tommy several times this week, but he figures the situation might be more awkward for himself.

"One thing about coach Bowden, he has great perspective and has been in football all his life," Swinney said. "He's a hard guy to get down. He bounces back quick.

"Hopefully, he'll be pulling for us and not his daddy. I don't know if we'll ever know the answer to that one. I know I'd be pulling for my daddy."


GNews
says some of the same things as the others, but talks more about our own Special teams play. I praised Powell before and then we had a blocked punt, so I won't praise him again. A ST gaffe is the very last thing we need against FSU.
Then tonight there were rumors about Tubbs to Clemson. All of this was sparked by a Tim Brando radio show (CBS) interview with ATL-Constitution writer Tony Barnhardt. This guy has always been pretty spot-on in the 10 years or so I've followed his articles. He's not a nut and is pretty fair-minded, except when it comes to UGA....who he always puts on a bit of a pedestal. He was worse about it when he worked for ESPN. LW talks about it in
Tiger Tracks.
But Tubbs aint coming here, and nor should Clemson fans really want him. I've watched a good bit of Auburn football over the last 5 years, and some of their battles with LSU have been classics. Tubbs is a gutsy defensive-minded coach who will go out on a limb sometimes with greatly-timed trick plays and fakes. Contrast him to Les Miles, who just does crazy shit that makes no sense and yet gets lucky every time.
Tubbs has had some great years at Auburn, and they have mistreated him in my opinion. He shouldve won a piece of the national title in 2004; I dont care what you say, if a team can go unbeaten they can claim a piece of the title. He's won 6 straight over Bama, which they never do. However, he is not the best person, as he jilted Ole Piss for more money in '98, and cant pick a good Offensive Coordinator. We've been through that problem, and I don't want it again. Al Borgess' offense was good in his first couple years, but last year he was fired before the Peach Bowl and Tony Franklin, his replacement, didnt even make it halfway through this season.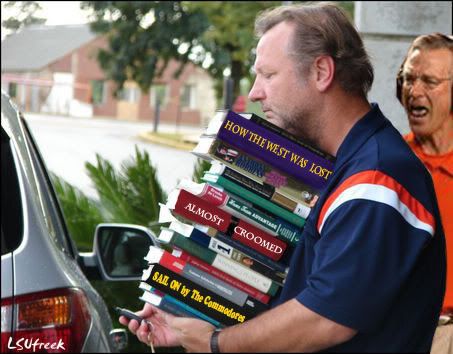 Auburn fans, I think, see that Saban is going to clean house in recruiting for Alabama until somebody offers him more money elsewhere, and they are scared. Combine that with their inability to win a few games they shouldve (Miss State last year, Wisconsin and GT in 05, and a myriad of games this year) and you have a recipe for a pissed off fanbase. I dont think he'll be kicked out, yet, but a losing season next year and he's tossed out the door like Fulmer.
Speaking of the Great Pumpkin, Spurrier made some comments about his fatness this week.
"He's probably, 16, 17 years there, probably long enough," Spurrier said. "Wasn't working very well. I think everybody understands, when it starts going bad, they got to make changes. We all know that.

"Congratulate him on hitting that lottery ticket, that's a big ticket he got, a big one," Spurrier said, smiling.

Spurrier shot down the chance of him switching SEC Eastern Division clubs.

"No, no, no. They'll hire a guy that wants to stay 10, 15 years, which is probably what they should do, really," Spurrier said.


(
source
)
He did go on to say that 5 years ago, he'd have considered it. Spurrier is from Tennessee. This pretty clearly indicates to me that Spurlid doesnt plan to be at Sakerlina for more than 5-7 years from now. If he was winning I bet he'd accept that the UGA fans on the board at Augusta National wont let him become a member, and decide to go somewhere else.