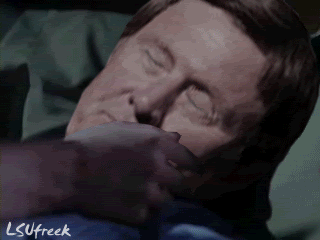 Led by a Smelley
cock.
I'm skeered. How much do you wanna bet that Granny Clampett picks the Cluckers to win this weekend, even after their top-ranked defense was exposed?
Be sure to slap a Coot today, its your duty as a Clemson fan.
I'm sick of hearing some of this "if we lose" shit on TNet. This is what we wait for every single year. I fucking hate Sakerlina. I hate the city, I hate the Cockroach, I hate their players. I hate how they think they're so great without having any reason to think so. I don't want to hear any of this shit about a honeymoon period being over for Dabo, I want to talk about how a WR coach is going to whip one of the "greatest coaches ever".
Just look at the record lately:
Man it would hurt to be looking at this series while wearing a garnet jersey. We have owned the Gamecocks.
1997...Tigers win 47-21.
1998...Tigers win 28-19
1999...Tigers win 31-21.
2000...Tigers win 16-14 on THE CATCH II
2001...Cocks win. Tipped hail mary goes the wrong way.
2002...Tigers 27-20, wouldve been 34-20 had Tammy not took a knee inside their 10 at the end.
2003...Tigers 63-17 -Todd Ellis with the call. "Touchdown Clemson...Touchdown Clemson...Touchdown Clemson....."
2004...Tigers maul gamecocks 29-7, then beat their ass after the game. The coots never started a play in our territory; their one TD came on a prayer-of-a-bomb that they made a nice play to catch and score.
2005...Tigers come back from first and a mile to win 13-9.
2006...Cocks win. Tigers blow 14 point lead because of Tammy taking out Reggie.
2007...Tigers down and facing 3rd and 18 late win 23-21.
Heartbreaking....

A little news.

WILL KORN
is likely out for Sakerlina. I was not surprised that he got zero snaps against the Wahoos, since the game was close and Dabo still believes Cullen gives us the best chance to win. Unfortunately, it looks like Ricky Sapp
is gone
with a busted ACL, and C. Clemons is probably not going to play as much, if at all. I expect Spurrier to test Sadat Chambers bigtime with Jared Cook.
I'm going to compare the stats from both teams and their opponents later this week.
EDSBS has summed up the Clemson season, and pretty much smote the nail
here.
Unfortunately for Sakerlina fans, its not Year 4.