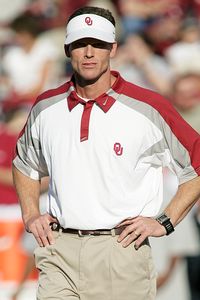 The ruckus all over TNet today was that the Clemson plane was sent to Oklahoma City with TDP aboard, supposedly to talk to
Oklahoma's assistants
Brent Venables and possibly Kevin Wilson. Since Venables has been linked before to the job, I put more faith in that scenario. The Oklahoma Rivals site and some of their fan sites are all pointing at Venables. Strelow has an article on it in
Pawsitive Press
.
Venables played with Stoops at Kansas State under Bill Snyder, and later became an assistant there from 1993-1998 until joining Stoops at Oklahoma
in 1999.
He was originally the Co-Defensive Coordinator there with Mike Stoops, and then took full control after the 2003 Championship loss to LSU when Mike went to Arizona as HC.
He was DC in 1998 at KSU, his only year at that position, beforehand being the LB coach. That years KSU team went 11-2, remaining undefeated until the Big XII championship game loss to Texas A&M and lost to Purdue in the bowl game. That team gave up 15ppg, most of which was in the last 4 games (2-2), and as most Snyder teams, played a pretty weak schedule.
In 2000, he was Co-DC of the 13-0 Sooner team that dismantled a very good FSU team for the Championship. Something that I thought was impossible at the time, and I still believe its the best defensive performance I've ever seen. After that, his defense held steady in ppg allowed (13-15) until 3 years ago, when the loss of alot of good underclassmen hit them very hard. Still, they have consistently gotten statistically worse over the last 3 years (despite 2 Big XII titles), and many OU fans I know don't want the guy anymore. They all want Mike Stoops back. Its not to the extent that we wanted Reggie Herring out, but there is a large component that do. This is mostly because the talent level of the guys OU brings in is so good that they should be playing better than they are. You may point out the quality of offenses in the conference, but his teams have given up alot of points to some bad teams as well. Whether that was mostly the 2nd string and freshmen, I don't know. However, even in the last few leaner years, they have led the conference in most defensive categories, and been ranked in the Top 10-20 in nearly all national categories in these years.
In 2006 he was a finalist for the Broyles Award (top assistant in CFB).
Recruiting? He's an outstanding recruiter. He's a younger high-energy guy similar to Muschamp. Many of their best recruits this year are on the defensive side. You can see the players he's pulled in
here.
His ties are mostly in Texas and Oklahoma, not the southeast. (The link allows you to check out his past recruiting as well)
What offense will he run? The offense at Kansas State during its best years was a spread option attack with a mobile QB. The offense at OU since 1999 has been a Run-n-Shoot spread, that originally started as Mike Leach's current offense at TT, and depending on personnel strengths of each team, has morphed over the last few years and Coordinators (Chuck Long, Mike Mangino, Kevin Wilson) into a more balanced attack. Its quite likely he will bring in some assistants from Oklahoma to run this kind of pass-oriented offense. I suspect Josh Heupel will get some strong consideration.
Since it appears that the Patterson-to-Kansas State article has been retracted as mere rumor by their Rivals site, I expect Venables to at least be interviewed there. I still think Patterson gets that job however, if Kansas State ponies up with the cash. Like Bud Foster, Venables doesnt promote himself, or he'd have a HC job already. I think he is a fine candidate for the Clemson job. He might not have the flash or the intensity of Muschamp, but I think he's proven he can recruit and Bob Stoops' track record of sending assistants elsewhere speaks volumes.